site links

05/10/18 | It's Back - I decided to bring back my blog in 2018. For now, this is a travel site, documenting my own travels, mostly in the desert southwest. It may take a left turn now and then, but mostly it's me, telling you about where I've been. My plan is to post my notes about the trip and a few pics about the event. Click on any pic to see the larger version.

On the right are my main ways of getting around. At this time, the Suzkui has 135,000 miles and is going strong. The Brodie is new to me in 2017. I used it for RAGBRAI 2017.

Some of my initial posts are post dated, but those places are too important to me to pass off due to timing. Please excuse my warping of the time-space continuum. I might go back to Bonneville next year, but it will be a long time before I do RAGBRAI again.

Thank you for stopping by. I hope your visit inspires you to travel more. If you are a weirless reader, to let me know. I love to get suggestions for places to visit. And I'll gladly share my impressions of any of the places I've been.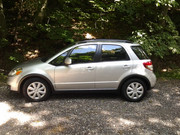 2012 Suzuki SX4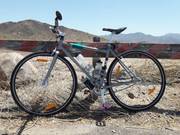 2017 Brodie Remus