site links

09/15/17 | Bonneville Salt Flats - Ever since I was a kid, I have been fascinated with Land Speed Racing and the Bonneville Salt Flats. I would pour over my father's copies of Popular Mechanics as they detailed the exploits of Craig Breedlove and The Spirit of America and other racers of that era. Living on the east coast of the US, actually getting to Bonneville seemed like one of those things that just was going to stay on my wish list. Fast forward to 2017 and now I'm living in Arizona and even better, I've become friends with a world record holder who invited me to be part of the crew for the 2017 World of Speed.

I flew into Salt Lake City on a Thursday night and drove out to Wendover, Utah in the dark. I would not see this until the trip back, but there is a whole lot of nothing between. Wendover is a typical western highway town. A few hotels, restaurants, and in this case some casinos (on the Nevada side). I settled into the Motel 6, said hi to my friends, and got ready to hit the salt the next day.

On day one of race day, I met the crew in the morning and we set out for the Salt Flats. When we got there, it was more isolated and larger than I imagined. Of course, it would need to be for the kind of racing that goes on there. As expected, it is flat and white, but the salt was softer than I thought it would be. Almost like a dusting of wet snow. The salt went as far as the eye could see on three sides, with a small mountain range on the northwest side. Sunglasses are a must.

The event lived up to all of my expectations. In the morning, we took the bike for the tech inspection and had to make some last minute alterations. (Remove headlight, remove license plate, flip around some bolts) While this is going on, I was also able to take in some incredible machines in the pit and around the tech area. It was windy and cool and when all was said and done, we didn't even run the bike on day 1. Racing was called off for the day.

On Saturday, the temps warmed up a little and the wind died down a lot. With a rookie driver aboard, the bike made a single pass that exceeded the prior record, which was held by the same bike. After that, it was back to the trailer for impound so the bike can be inspected to make sure it is up to spec. We had to pull the head off of one cylinder so that they could check the displacement. After passing, we packed up and planned to make the 2nd run on Sunday. In land speed racing, you need to make two runs and take the average to set a record.

Sunday was more of the same, but with a real sense of excitement based on Saturday's run. True to form, the bike went fast and straight and the team set a new world record. Just being there was everything I had expected it would be. Being part of the crew, and setting a world record, put the entire trip over the top. To follow the team, check out brokebastardracing.com. To find out more about the World of Speed, go to USFRA home page at slatflats.com.
---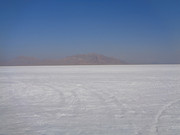 Whole lot of nothing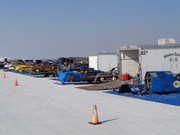 View of the pits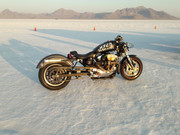 Just a bike and some salt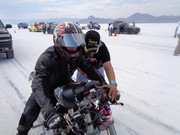 Starting line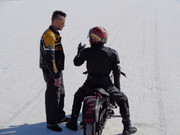 Go fast, go straight

07/18/17 | RAGBRAI - FYI, Iowa is not flat! In 2016, my friend Luke was just getting into bicycling. I suggested that he pick a goal and told him about about the Register's Great Annual Bicycle Ride Across Iowa. It's a seven day ride that crosses the state and it's a great way to see Iowa, as long as you don't mind riding about 60-80 miles per day. Luke took my suggestion, under the condition that I did would do it with him too. I had done the ride back in 1998 on a 12 speed Trek 560 so I decided to do it on a single speed Brodie Remus this time.

The most typical way to do RAGBRAI is to camp. You are allotted one bag that they carry from town to town and when you get to a host town, your bags are available for pickup. Since there are around 10,000 riders, you usually are camping at a school or at a county fairgrounds. The host towns lobby to serve as hosts because it brings all of these bodies into town, along with their wallets. It typically is a good deal for both parties. The local organizations like boy scouts, Lions Club, local churches, etc. have dinners and other fundraisers and the riders can eat on the cheap.

Iowa always struck me as small town USA and this ride confirms it. I mean that in a nice way. The routes are planned to pass thru towns to allow for food, drink, sightseeing, etc. We usually got breakfast on the road, stopped for longer stays for lunch, then had dinner in the host town. It's not atypical to visit a town of 2000 or less when you are riding. Even along the road, there are opportunities to stop for coffee, ice cream, pb&j's and just about anything else. Along the way, the locals line up to watch the riders pass by and wave to them. In between towns it's a lot of farmland with fields of corn and other crops. Two lane highways for the most part with rolling hills. It's about as perfect for riding as you might imagine.

For a lot of recreational cyclists, the metric century (100km/62mi) is a common ride for organized group rides. This is essentially seven of them in a row. You start on the west side of the state and end up on the east side. Many riders choose to dip their rear tire in the Missouri River at the start and then dip their front tire in the Mississippi River at the finish. You can start at 6:00am and they stop on road support around 6:00pm so you can take your time if you so desire. Luke and I shot for a 2:00-4:00pm finish most days to allow us to get camp set up, get showered, and grab an early dinner. Then we would cruise the host town to check out the vendors or the entertainment. Most nights we hit the sack just after sunset, since we were typically on the road by 6:00am the next day.

On this trip, I didn't take a lot of pictures. I was in one of those "in the moment" moods and just focused on enjoying the trip. The few that I did take got deleted in error. The pictures that you see here, were taken by my friend and RAGBRAI teammate Luke. If you are a Facebook user and you want to check out his site, visit The FAT Driver. To find out more about RAGBRAI, visit ragbrai.com. And to find out more about Iowa, visit www.traveliowa.com.
---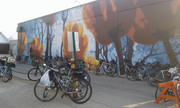 Small town USA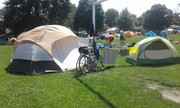 Camping for 10,000


Luggage drop-off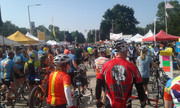 Passing thru town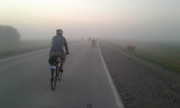 On the road


Picture time